Applications are now open for the first intake of our Intro to Cook Training Program in January, 2021.
Download this fillable PDF form, complete the information, save and email back to Andrew Wong, Project Manager at [email protected]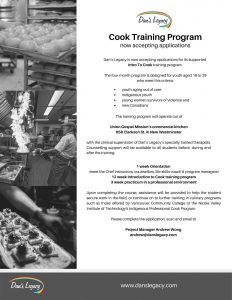 Dan's Legacy envisions a work-skills training program for Lower Mainland youth in care and those aging out of care with barriers to employment. The proposed program covers three occupational models: Commercial Food Production, Warehousing and Vehicle Operation. Recruitment, assessment, training and placing of clients in these occupations are the primary goals, along with providing therapeutic counselling, life-skills instruction and secure housing to the participants, some of whom may be affected by Mental Health issues. Each model will be designed to meet the current and future needs of the representative industries, soliciting input from industry professionals and others to ensure the program provides consistency with best-practices. Instructors will be industry representatives with business connections, ensuring a greater likelihood of job placement for the students upon graduation.
For more information about the Dan's Warehouse Project, download the concept brochure below: