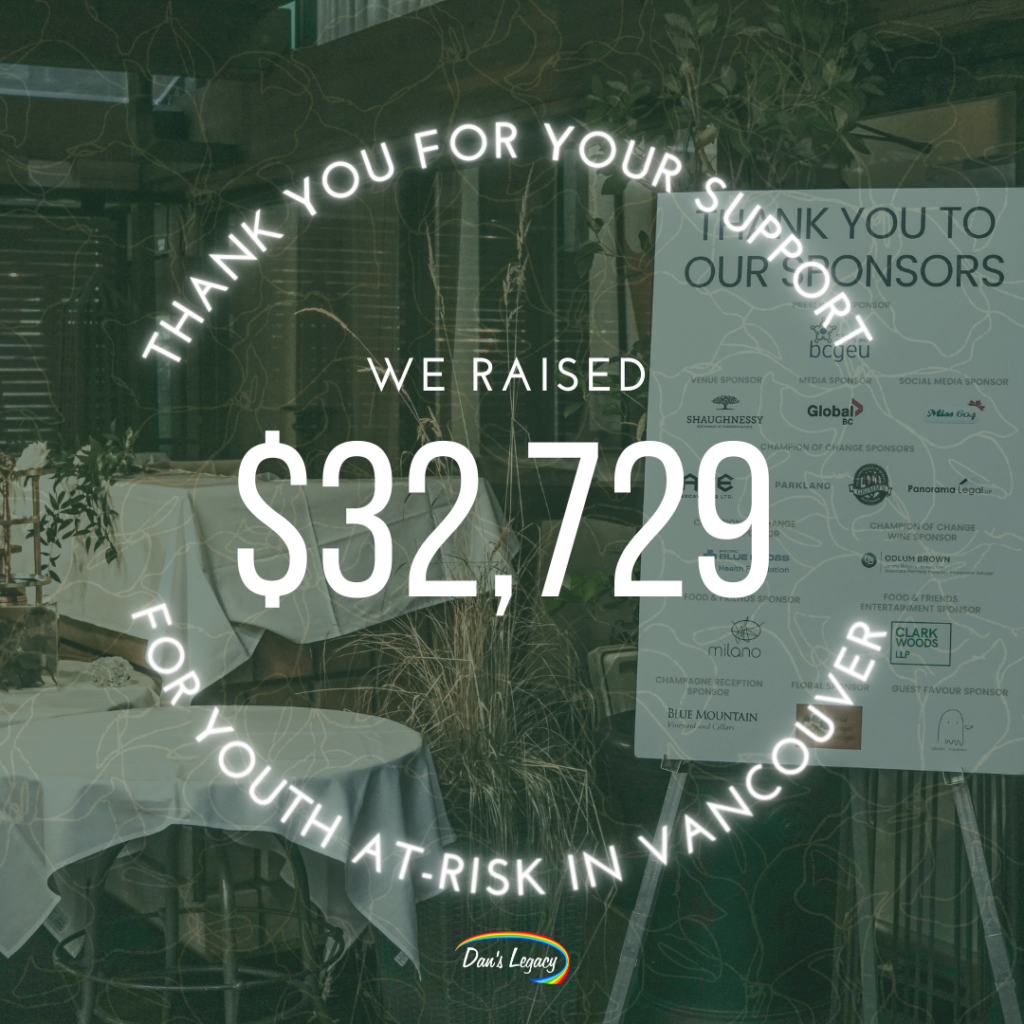 Delta, BC – On Saturday, November 5, 120 guests turned out in support of the 9th Annual Chefs' Charity Dinner presented by BCGEU held at the Shaughnessy Restaurant at VanDusen Garden and raised $32,729 for Dan's Legacy. The funds will go towards the charity's trauma-informed counselling and life-skills programs for youth at risk.
Celebrity TV Host Erin Cebula returned for the second year in a row as the event's MC, following last year's online Chefs in the House virtual and interactive fundraiser in response to the COVID-19 pandemic.  Chef Matthew Phillip (Shaughnessy Restaurant), Chef Andrew George (Industry Training Authority), Chef Luke Willingdon and staff/graduates from Dan's Legacy's "Intro to Cook" program, and Pastry Chef Alannah Peddie (Frolic & Forage Catering + Cakery) created the entire menu using only surplus food.
Erin Cebula read a heartwarming and powerful story from the mother of a youth graduate of Dan's Legacy's "Intro to Cook" job-skills training program, who said "…I was struck by the uplifting care, encouragement and support that the chefs, counsellors and administrators showed the proud students…Many of these students, including my own son, have been "outsiders" but Dan's Legacy gives them a patient and loving environment to learn work and life skills which further builds their self-esteem and confidence to keep on the goal to betterment."
"All of our clients have grown up being told over and over again what their problems are and that they will likely never amount to anything," says Barbara Coates, Dan's Legacy's executive director. "Because our approach to counselling and wrap-around services is trauma-informed, we help the clients discover the potential we see in them. And it's working. In the past six years, we've helped over 1,000 youth in Metro Vancouver stabilize their mental health, and begin working towards their educational, employment and recovery goals."
VIPs in attendance at this special event included: The Honourable Sheila Malcolmson, Minister of Mental Health and Addictions; MLA Andrew Mercier, Parliamentary Secretary for Skills Training; Vancouver City Councillors Rebecca Bligh and Lisa Dominato: Stephanie Smith, President, BCGEU; and Elder Tomma Oleman of the Stl'atl'imx community.
Dan's Legacy thanks Presenting Sponsor BCGEU, Media Sponsor Global BC, Social Media Sponsor Miss604, and the Shaughnessy Restaurant, Ace Excavating Ltd., Grimm's Fine Foods, Pacific Blue Cross Health Foundation, Panorama Legal LLP, Odlum Brown Limited, Parkland, Blue Mountain Vineyard and Cellars, Ghost Roaster Coffee, Milano Coffee Roasters, Clark Woods LLP and Wild Ginger Designs for their sponsorship, as well as all of its guests for their generous support of the cause.
Dan's Legacy also sends a greatly appreciative thank you to its volunteers for the generous gift of their valuable time.
If you missed the celebration but would like to support Dan's Legacy, or if you know someone who is asking for help, please visit danslegacy.com/help/ to self-refer or refer a client.