"The only time you should look down on someone is when you're helping them get back up."
Destiny Newton said this last year at our gala, and explained how Dan's Legacy gave her a new start in life with shelter, food, clothing, support and counselling.
Raised in a family of addicts, Destiny says she struggled in life just to survive.To feel loved and appreciated.
Dan's Legacy gave her the strength to leave an abusive relationship that left her with permanent physical damage, hope when she didn't think she would make it, and trust that there are still good people out there.
Destiny says she wakes up every morning and is happy. She has her children – and her life.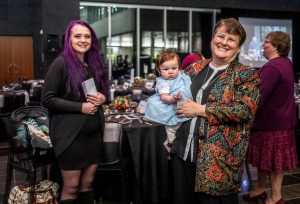 Destiny with her daughter and our Program Manager Kathryn-Priest Peries 
2020 has been a tough year for everyone.
But one of the best ways to bring happiness into our lives is to help others.
A gift to Dan's Legacy provides youth at risk with critical mental health counselling, food, safe housing, and a new job-skills training program starting in January, 2021.
This holiday season, donate to Dan's Legacy and help a youth take back their life, care for themselves and their families, and stand beside you as someone who gives back to their community.
Thank you for reaching out to help one of our kids get back up.     Click here to donate – thank you!