December 8, 2021
Students in our "Intro to Cook" training program now know how to prepare a salmon for baking, smoking and drying thanks to a workshop presented by Dave Charleson, a fisher from the Hesquiaht First Nation. Dave explained the cultural significance of the salmon to his Hesquiaht people and also spoke about indigenous food security and food sovereignty.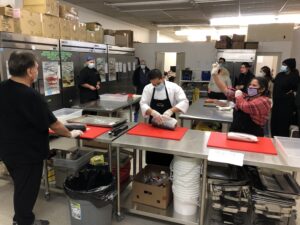 The group was made up of current and alumni students of "Intro to Cook", Dan's Legacy's 3- month training program that provides basic cooking skills instruction and help finding employment opportunities.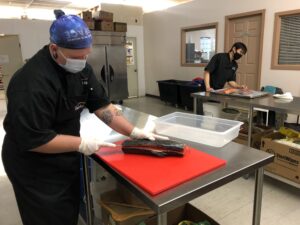 Dave explained that the most special thing about the salmon is what's inside it: the bones are high in Omega 3 fatty acids that help boost the immune system. Everything Dave eats is medicine for his body; after losing his lower leg in a fishing accident in 2018, he overcame the pain of learning to walk with a prosthetic, as well as the phantom pain of a lost limb, by eating food that would make his immune system strong. This was a lesson he learned from his grandparents, which he passed on to the students.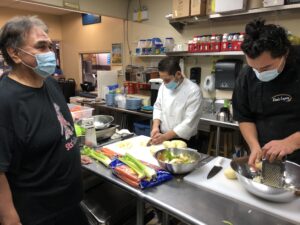 The students learned how to fillet and bake the salmon, prepare a salmon chowder, and enjoy Dave's famous clamjacks – his special fried potato/onion/clam fritters. Dave also helped the young chefs understand that happy cooks create happy food by transferring their positive energy into the dish, which then goes into the people eating the meal.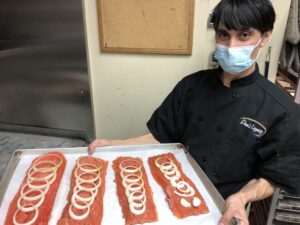 We were honoured to welcome Dave to our commercial kitchen training space at the Union Gospel Mission in New Westminster, situated on the traditional and unceded territory of the Coast Salish Peoples. We look forward to inviting him back in 2022 for another workshop.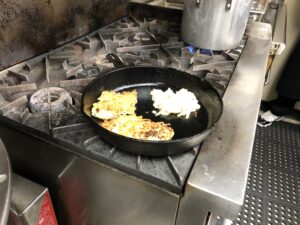 Our thanks to the private donor that helped make this workshop possible, as well as our "Intro to Cook" Training Program funders the provincial Ministry of Advanced Education, Skills & Training and the Ministry of Social Development and Poverty Reduction, Agriculture and Agri-Food Canada, the Industry Training Authority, Coast Capital Savings, The Co-operators, and BC Hydro.
Registration for "Intro to Cook" is ongoing – please click here to apply.