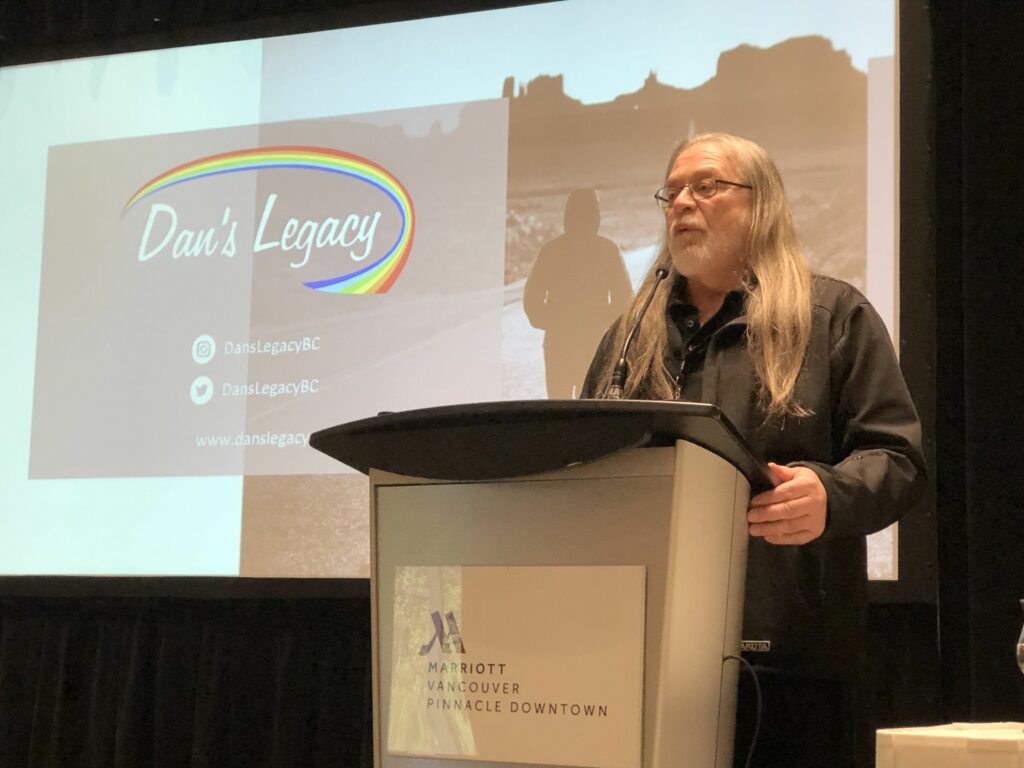 On Friday, May 13, 2022, Dan's Legacy had the opportunity to bring our Program Director, Tom Littlewood to speak at the 7th Annual CYMHSU Conference in Vancouver. The audience was comprised of family physicians, specialists, pediatricians, representatives from the Ministry of Children and Family Development (MCFD) and the Ministry of Mental Health and Addictions, as well as Health Authority representatives.
The purpose of the conference was to come together in-person to network, share learnings, collaboratively action plan and identify opportunities for continued partnerships in transforming mental health care and substance use prevention and care for children, youth, and families in BC.
Tom's presentation focused on trauma-informed practice and trauma-informed recovery, and invited the audience to consider ways in which therapists and physicians could collaborate to best serve their clients/patients.
Trauma-informed practice or TIP has become overused and underdefined in the last few years. Sometimes almost comical, sometimes almost criminal, this term has become diluted by misuse. Our therapists start by helping the client learn self-regulation, followed by the trauma work, and in a minimum of four months, we are able to empower youth enough that they succeed in their housing, recovery, education, work, or training goals. Trauma-informed recovery is when the therapist, the doctor, and the client form a contract in which during the four to six months of therapy the doctor will prescribe a replacement opiate or stimulant (safe supply) for the client while the client is doing the work in therapy.
The first one to two months are focused on stabilizing the client by helping them to learn self-regulation through a healthy diet, exercise, Cognitive Behavioural Therapy (CBT), Dialectical Behavioural Therapy (DBT), and mindfulness. The focus then moves to the client who gains insight into the trauma origins of their issues but is able to see their trauma from another perspective. This gives them the internal room to heal. When the physician, the therapist and the client all reach a consensus that the trauma work is complete, the physician then steps back in and prescribes suboxone to help the client taper off the addiction to the opiate and start moving towards sobriety. Therapy would continue to deal with the remaining rituals and be available when needed in the future.
Cooperation between physicians and therapists will be best practice if we use the principles of being trauma-informed between professions and not just with our clients.
Participants were invited to provide feedback on ways to improve the referral process to Trauma-Informed Therapy, concerns to address for prescribing safe alternatives, and centralized support and best practices that would advance Trauma-Informed Therapy and Recovery.
Opportunities that were generated from the participants include:
Carry out service mapping to help physicians identify local resources that families can access
Develop a centralized list of vetted trauma-informed therapists in the public domain with bios to activate youth in choosing their therapist as well as accessible through a provider tool, such as COMPASS
Include trauma-informed therapists in Primary Care Network development (services provided at no charge to families)
Access advice on prescribing safe alternatives to youth via the 24/7 Addiction Medicine Clinician Support Line
Identify best practices for ensuring prescriber safety and preserving the therapeutic relationship
Offer 1/2 day training on prescribing safe alternatives for youth in Trauma-Informed Therapy
According to Shared Care, which includes Doctors of BC & the Ministry of Health, youth receiving appropriate mental health and substance use care at the right time may enable a child or youth to return to good health or prevent the escalation of problems and symptoms into adulthood and even save young lives.
We would like to give a special thank you to the Shared Care Committee, Doctors of BC, and Christine Vandebeek of Effectegy for organizing this conference and inviting Tom to speak on the practices of Trauma-Informed Therapy and Recovery.
Tom Littlewood is available for other speaking opportunities; for more information, contact Linda Vu, Marketing & Communications Manager at [email protected]
If you or someone you know is asking for help, contact us.